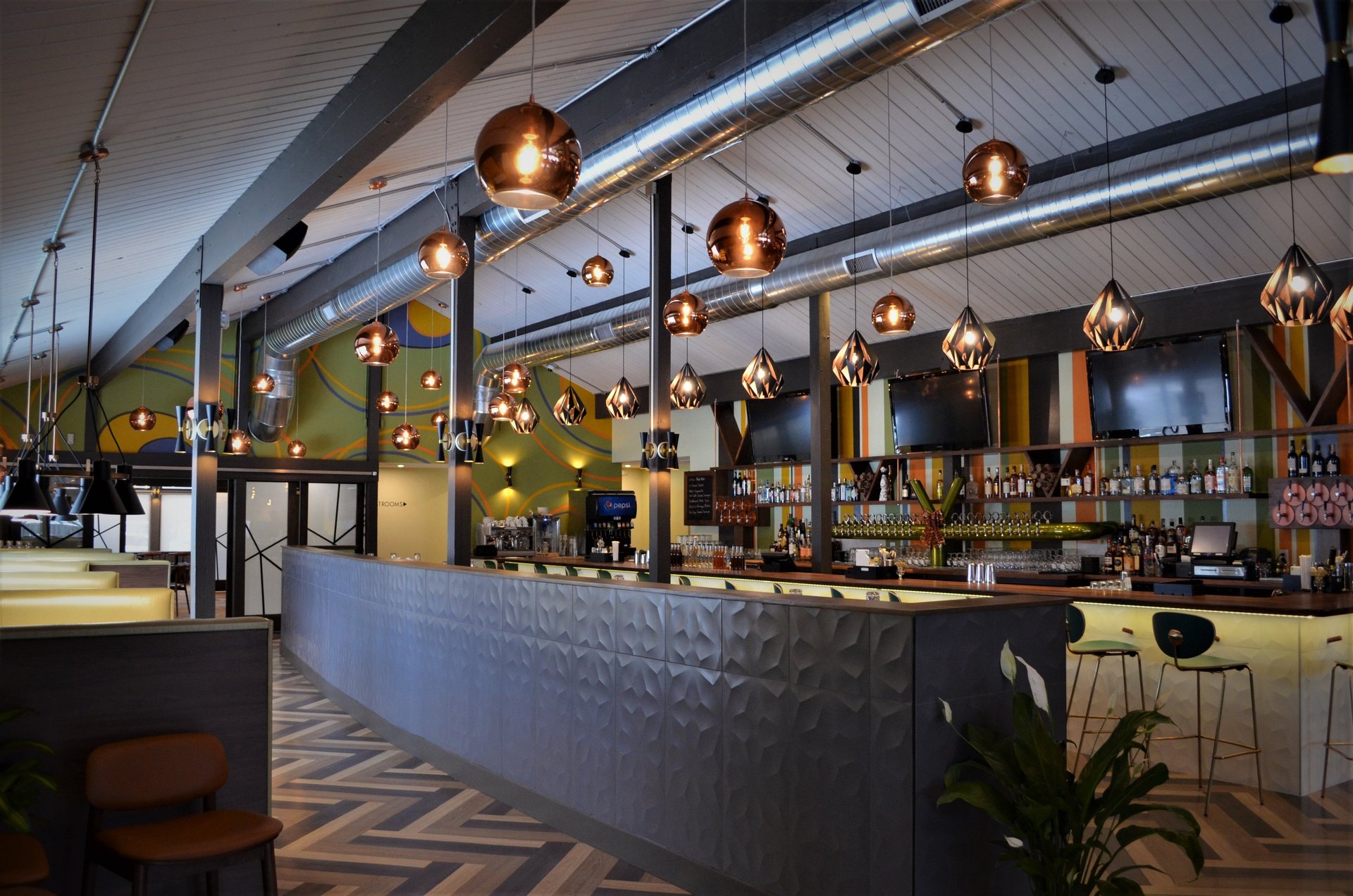 Craft Cocktails.
Tons of Local Beer.
Wine on Tap.
New American Cuisine.
Hello, thanks for stopping by!
We welcome you to our lovingly restored Mid-Century Contemporary eatery here in Farmington Connecticut, which offers a unique rotating seasonal menu. Our beer tap holds 24 craft brews mostly from Connecticut and a few favorites from the region. However, if beer isn't your thing, we have wine-on-tap as well as a reserve list with bottle service.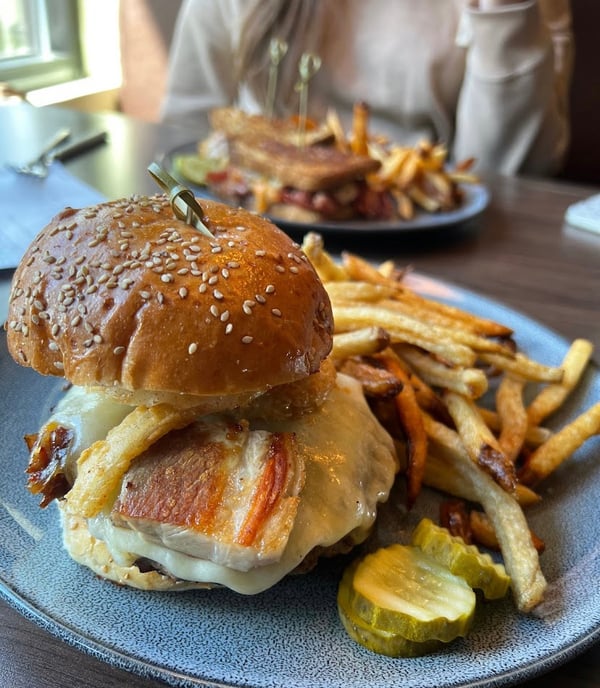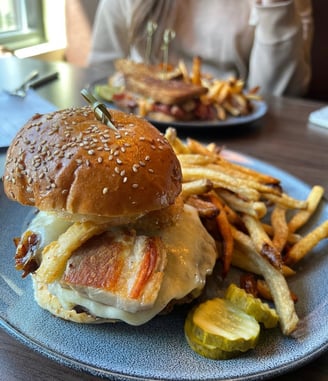 Ginza Pho is based on a family recipe that's been handed down for generations. It's a spicy, light and aromatic noodle soup.
Our bespoke ramen comes with handmade noodles, a wide array of toppings to choose from and homemade broth.
Join us for our first ever wine dinner!
Join us for a curated dining experience at Five Corners. As we embrace winter, our culinary team headed by Chef John has created a harmonious and memorable experience highlighting the savory and rich flavors of the season with a four-course meal and wine pairings.
WINE DINNER MENU
FIRST
Shrimp Toast
paired with Decoy, limited brut rosé méthode champenoise CA
cilantro, basil, sweet and sour cranberry, chile
SECOND
Pear
paired with Decoy, chardonnay sonoma coast (2020)
poached pear, goat mascarpone, fall spices
THIRD
Duck
paired with Decoy, limited cabernet sauvignon napa valley (2021)
leg confit, escarole, hazelnut, cauliflower
FORTH
Beef
paired with Paraduxx, proprietary red napa valley (2020)
petite filet, espresso, candied sweet potato, cacao
THANK YOU
Bonbon
carrot cake, pecan, brown butter caramel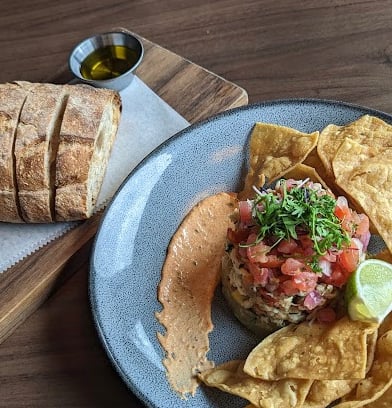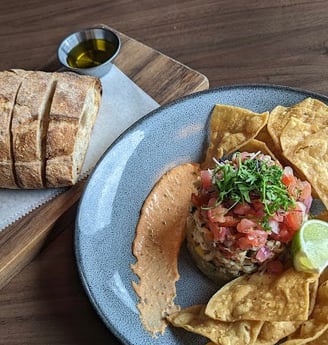 We highly recommend a reservation on Friday and Saturday evenings as we reach maximum volume on those days. Groups of 8 or more must reserve ahead of time. Parties of 9 or more should contact us by calling us directly so that we can make special arrangements. We will do our best to accommodate special requests. Please note that table locations cannot be guaranteed. Also, please consider others who have reserved a seating after you and stick to a 90-minute seating. Our pledge is to give you a fantastic experience within those 90 minutes! Outdoor seating is first come first serve and can not be reserved. Reserving a table beforehand means less waiting.
Why Gin? Why not Gin? We love it and we want to get people more interested in it. Sure, you may have had a bad experience with some common Gin varieties out there, but we carry many boutique and small batch Gins from around the world and even a few distilled in Connecticut that may change your mind or at least give some sort of respect towards the spirit. Let our staff guide you through our expansive list and order a Gin & Tonic flight.
Something unique to us is our Gin Club & Social. Join us as we feature more than 80 Gins we have in our collection. We hold our meetings four times a year, and sell out very quickly. We encourage Gin fans and people who want to explore the world of Gin to get in on the Club!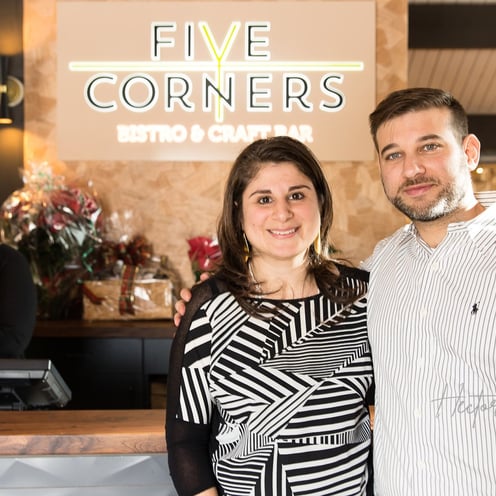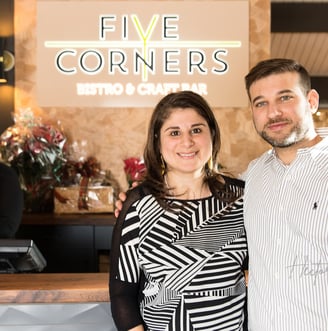 Our Brunch is served on both Saturday and Sunday 11-2p. We offer Happy Hour Monday - Friday from 3-6. Prime Rib Nights are offered each Wednesday from 5-close. We hope you can make it for dine-in, however, we have take-out or delivery for those "Five Corners and chill nights." We thank you for rooting and supporting us Farmington and beyond!
Warmest Regards,
Despina and Christos Theodoropoulos
Owners of Five Corners Bistro & Craft Bar